It is only six weeks until Christmas so whether its Kris Kringle or stocking stuffing you're doing - I have compiled a list of a gift Ideas for the girlie girl in us all! Budget wise - the most expensive gift is priced at €30.00 which in my opinion isn't too bad!
So without further ado let the merriment begin!!
This first gift on the list HAS to be the EOS Smooth Sphere lipbalm's. They are priced at €6.95 and come in a range of colours and flavours. The packaging is so cute and quirky - they are the perfect stocking filler. Everyone from The Kardashians to The Directioners have them. Meaning what? We all want one!!
If I haven't already convinced you to purchase one I have reviewed them before so be sure to check it out
here
.
2. My beloved Cocoa Brown Tan have brought out these really cute gift sets for Christmas. They contain a sachet of their AMAZING
Tough Stuff Scrub
, a bottle of their
1hour tan
and exfoliating gloves. They are available in Penneys priced at approx €9.99 considering the Tan on its own retails at €7.99 - It is well worth picking up!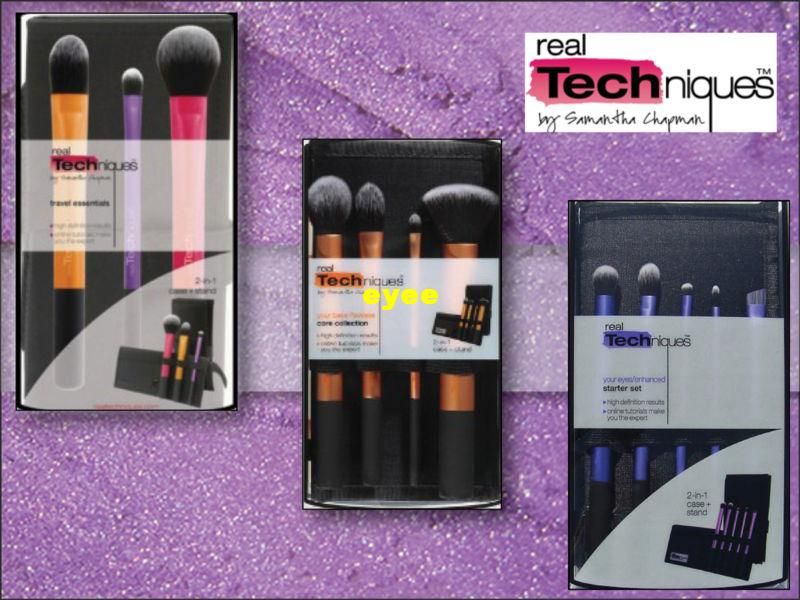 3.
Real Techniques Brushes
are created by Sam Chapman, one of the Incredibly Talented Pixiwoos sisters from YouTube. These brushes can be bought individually or very cleverly in sets. They have a face set, an eye set and an essentials Kit. I picked up the essentials kit myself a few months back and I have to say it is FABULOUS. You get a foundation brush, a powder brush and an eyeshadow brush. It is perfect for beginners and experts alike as it gives you a really good idea of what the brushes are like. It would be the perfect gift for your daughter, sister or niece who is just getting into makeup. Each of the sets in the above image are priced at €24.99 - About the same as one MAC eye shadow brush. I cannot recommend these brushes enough.
4. Boots 3 for 2 on gift sets seem like great value Christmas gifts. However, how much of these products do we every actually finish using? I did a big clear out of my room last week and I am telling you in hindsight they were wasted on me. I tend to try each product out once or twice and forget about them again. If you do decide to venture into Boots while Christmas shopping my advice would be to opt for the 3 for 2 offer on the makeup bits or alternatively pick up some of the full size versions of the minis in these sets. They are priced at approx. €10.00 each meaning you will get 3 full size products for €20.00 and these are far more likely to be used - The Soap and Glory Scrubs especially!
5.
Sleek Makeup
has to be one of the most reasonably priced Makeup brands on the market. The quality you get for the price you pay for is second to none. Their products are so pigmented, they would honestly give any product three times their price and run for their money. I have reviewed a few of the sleek blushers in the past, which you can find
here
. They got a rave review if I may say so myself. I have since invested in one of their 12 eyeshadow palettes which are priced at only €9.99. I have my heart set on a second one for Christmas -
Sleek Makeup i-Divine in Vintage Romance
6. Laura Mercier's Holiday Body gift sets are so Luxurious. As pricey as they are, they do make a lovely gift at Christmas. Last yearI treated myself to their Hand Cream Sampler - it contains four of their bestselling hand creams; Almond Coconut Milk (My personal favourite), Creme Brulée, Creme de Pistache and Fresh Fig. All 50g tubes. The set is priced at €30.00 which to some may seem expensive for hand cream. Divide it by four and they work out at €7.50 each which is the average price of a tube of hand cream in your local chemist minus the luxury. You can share the set out between friends of keep it all to yourself. This is definitely on my own wish list again this year. It is available from Brown Thomas.
7. Goodbye Sleepless Nights, Hello Great Hair. This saying could not be truer if it tried. I picked up my
Sleep In Rollers
not long after they came out. They are velcro hair rollers with a spongey centre so you can wear them to bed. When they are taken out in the morning its as if you're just out of the hairdressers after treating yourself to a big bouncy blowdry. The original set comes comes in pink a cute pink drawstring storage bag to keep them together - this includes 20 rollers which is more than enough for your whole head of hair. Since their initial release the brand have expanded and have the rollers in a varity of colours and sizes. They also have brushes, clips, donut rings and hair dryer hoods. Everything you could possibly want when it comes to hair styling. The original set is priced at €20.45. I love mine so much I'm tempted to go back and get another set in a different colour!!
So there you have it. My budget friendly stocking fillers.. Well a few of them anyway! If you have any further questions or want anymore ideas please don't hesitate to contact me as I'd be more than happy to help out! I have a few more Christmas gift posts to come later on in the week including gifts for him and her (the big gifts that is).
** The majority of these gifts are available from Cloud10Beauty an Irish owed Online shop so please don't forget to support Local and of course support Irish this Christmas.