My new obsession has to be Sleek Cosemetics.. I've been watching beauty 'vloggers' on YouTube rave about this brand for literally years and since investing in my first sleek blusher back in March!? I have fallen more and more in love with the brand.. To the point where I have completely given up on my beloved Benefit blushers. Why pay thirty odd euro when you can get a more pigmented product at a fraction of the price?
These are flawless.. Literally! They are highly pigmented. They are not chalky and will not oxidise on the skin. The lasting power is second to none and the range of colours? Don't even get me started on those. Everything from bright orange to a deep berry in both matte and shimmer. The colour's can be bought individually or in a set of three (making them even more affordable).
To date I own six shades ( 3 individual shades and a Blush by 3 'Lace'). The 3 individual shades I own are as follows;
Flushed - A deep berry shade ,perfect for autumn/winter. It will look so fabulous with a deep vampy lip. Although it may look intimidating if you apply it sparingly you'll get a lovely pop of colour on your cheeks.
Suede - A light matte brown colour, it can be used on the cheeks but I use it as a contour powder. It works perfectly for anyone like myself with the typical (pale) Irish complexion.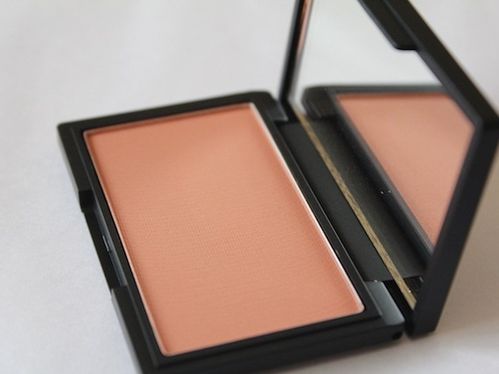 Rose Gold - This is my absolute favourite of all the Sleek shades. It is a beautiful peachy coral colour flecked with gold glitter. It is such a flattering colour and the perfect alternative to the (almost over used at this stage) dusty pink providing a healthy looking golden glow during the summer months. It has been compared time and time again to Nars 'Orgasm' and rightly so.. However you get more product 8g's compared Nars' 5g for a fraction of the price.
I also own a 'Blush by 3' in lace. I wonder what caught my eye there? It has to be the shade called 'Crochet' a vibrant orange colour. Clearly I was feeling very daring at the time!!
This palette is fabulous..
Crochet - An eye catching and very bold orange. It looks extremely intimidating when you see it first but it is surprisingly wearable.. Even for the palest of us! It is very pigmented, as are all of the sleek blushers but can be applied sparsely and blended in well.
Guipure - At first hand looks near identical to 'Rose gold' but is in face far sheerer and makes a brilliant highlight. There is more gold in this blush and it captures the light beautifully.
and finally..
Chantilly - I would call this a true coral colour. It is probably most suited to Olive/darker skin tones but as with all of the blushes if it is applied with caution it is very wearable.
Overall, as a whole I really cannot not fault the product itself. My only qualm is the packaging, although it looks as sleek as it is named. The clasp to open it is quite stiff and if like me you are cautious of your nails you will have a bit of bother.. A pen comes in handy at this point! Like I have said previously, these blushes have replaced benefit's blushers completely for me personally after a love affair going back quite a number of years thats not bad going is it?
I purchased my blushers from Cloud10beauty (The best discovery of 2013 I have made to date). Not the easiest brand to get your hands on in Ireland admittedly but well worth all the effort!